LINKS
Royal Crown Revue(Another Great swing band)
Cherry Poppin Daddy(A different style of swing)
BIG BAD VOODOO DADDY WEB PAGE (Just you in case you forgot that the offical web page)
Swinger(Big Bad Voodoo Daddy is in it)
Vintage cloths Vintage cloths
LPNLee press on and nail
Totaly La(Place to win BBVd autograph stuff, and other band
Johnny BoydThis is the former singer of indigo swing got a website and is out on it's own.
Tom Maxwell Former member of the SNz now doing his solo debut.
Work that skirt another good dance troop
Dancestore Place to buy an affortable comfortable pair of bleyers
---
here are some cool cat swing book and magazine should be picked up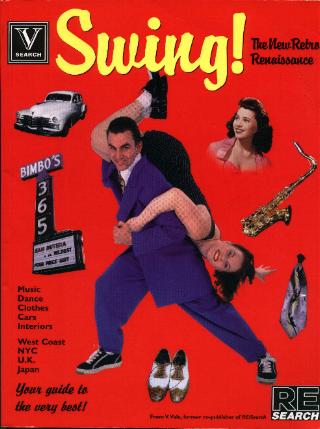 This all for your swing info need, also you can pick it up at tower records for 17.99 or any other book stores that carry it.
---
Atomic Magazine This is a new cutting edge swing magazine develop in Nyc, it got some of the best writers around that was recrutied from swing time mag which is no longer in business. It take a closer of how america is suppose to be. atomic mag
---
Screamin Magazine this is another cool swing magazine and guide to american hi style. For 6 issue subscription send $18($27 oversea) to Hi Style Enterprises, POB 577370, Chicago IL, 60657. Sample issue is $4
---